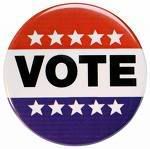 Today has finally arrived and it's time to stop debating, contemplating and get your behind to a voting poll to cast your ballot. Every vote counts!! Be a part of this historic event. I will forever remember this day because this is the first chance we could legitimately have a black man in office.
It's a warm 60 degrees here in Oakland and once the polls opened at 7am I was 32nd in line to vote. The lines seemed to stretch around the block as many of my neighbors waited for their turn. Everyone had smiles on their faces because the notion of one person making a change seemed to stretch the imagination in elections past.. but not this one. It's clear that the black vote is coming out in force and want their voices heard.
We need for young (over 18) and old to go out and show support for whatever candidate you choose.. but just CHOOSE!